If you've been in the e-commerce game for long, you already know you need an inventory system to help avoid stockouts, boost revenue, and dominate your niche. But despite the vast number of tools that claim to solve problems, very few of them are actually focused on real smart inventory optimization.
Sure, they'll offer restocking alerts so you know when to place an order—but they can't predict your future inventory availability to help make sure you never go out of stock.
That's where Flieber is different.
As the only real inventory optimization platform for online retailers, Flieber's advanced algorithms go beyond basic prediction technologies to synchronize sales and inventory and automatically trigger the purchases and transfers that will guarantee availability.
But just because it's awesome, doesn't mean it's for everyone.
Our platform was designed specifically for e-commerce companies that are determined to grow profitably across any sales channels while achieving real longevity for their brand.
If that sounds like you, you're in the right place! These core factors will help you know for sure if Flieber really is the right choice for your business.
Ready to take control of your inventory for more sales and higher margins? Book your free demo today!
Go beyond restocking alerts for accurate forecasts you can count on
By now, you know the score with forecasts. These data-driven stock predictions play a crucial role in inventory planning and reordering. To keep your sales high and expenses low, you need your inventory forecasts to be as accurate as possible.
Unfortunately, most inventory management trigger replenishment alerts based on fixed parameters (e.g., when my stock reaches 200 units, please issue an alert), and forecast their predictions using simplistic approaches (e.g., a short-sighted 30-day moving average and flawed sales velocity calculations). The result is an average 57% accuracy rate—roughly the same as a coin toss.
The good news is, it doesn't have to be that way.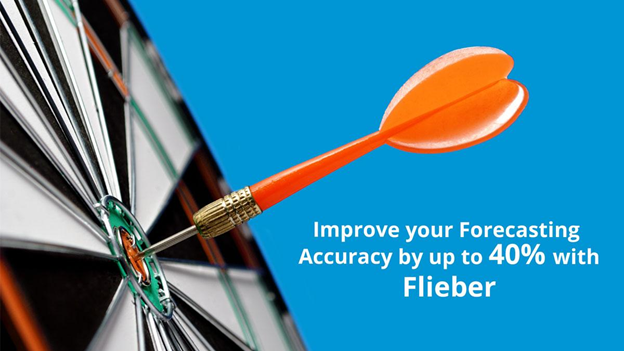 Flieber takes a more expansive approach, blending longer-term forecasts with data-crunching AI to account for a broad range of factors, such as seasonality, rank influence and price variation, to help make forecasting more accurate.
In fact, our latest analysis revealed a massively improved 80.1% accuracy rate for a 60-90 day period, the average time needed to get stock from a supplier and ready to sell—that's 40% more accurate than the forecasts your competitors are most likely using (and also more accurate than your typical 7-day weather forecast! 😉).
Ready for a fresh start in your inventory optimization journey? Get started with Flieber.
Optimal inventory levels across all storage and fulfillment locations
With channel loyalty on the decrease and Amazon FBA uncertainty at an all-time high, a resilient multi-channel strategy is the only sure way to futureproof your brand.
And unlike most inventory systems, Flieber gives you full visibility into your purchases, quantities and ideal delivery dates across all your marketplace accounts.
Now you can streamline the data from each one of your sales platforms, fulfillment, and storage locations to provide a 360-degree view of your supply chain, all from one central system.
With a complete picture of your inventory and supply chain, you can look forward to benefits like:
No more stockouts: With Flieber, you get notified in real time on any products at risk of going out of stock so that you can proactively adjust your sales and restocking strategy.
Better buying and selling decisions: By synchronizing your sales and inventory across all channels, you'll be able to predict stock more accurately while reducing profit-draining stockouts and rushed restock orders.
Increased cash flow: Armed with a portfolio-level view of your product performance, you'll be able to free up working capital trapped in overstocked SKUs and use those funds to fuel further growth.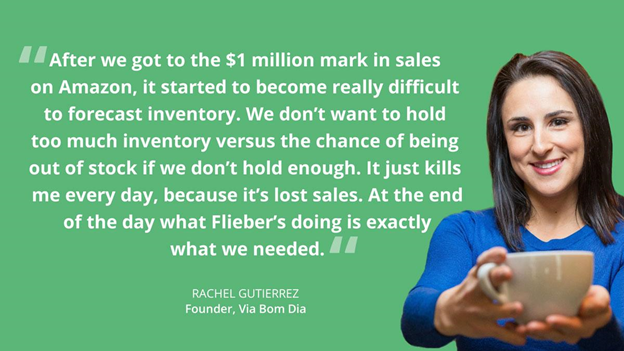 Fully-synced sales and inventory for profitable revenue growth
Because most inventory management solutions operate on a rigid set of fixed parameters, they typically treat sales and inventory as two separate tasks.
But with so many disparities between how much stock you need and how much you have, sellers often end up losing sales or holding on to too much inventory.
Not with Flieber.
As the only true inventory optimization platform for multi-channel e-commerce, our system is the first to acknowledge the crucial relationship between sales and inventory.
Flieber uses advanced machine learning to rapidly assess your true sales pace and inventory side-by-side, including important yet often overlooked outliers such as seasonality, inventory restrictions, and other variables.
Say goodbye to lost sales and trapped capital due to excess stock. With Flieber, you can deliver a big boost to your sales and margins simply by paying better attention to what's really going on with both your sales and inventory.
Ready to scale smarter? Find out how Flieber can help increase profitable sales.
No more fixed parameters, machine learning helps make sure your next move is the best move
On the path toward rapid growth, many e-commerce businesses struggle to take the right steps. But if you want to scale profitably, you need to create a system that will help you make good choices consistently.
And there's one critical factor that can make or break the quality of your decision making:
The quality of your data.
With Flieber on your side, you'll finally have access to the easy-to-digest information you need to make the best possible decisions for your business—even in a complex multi-channel framework.
Think of it as the closest thing to having a magic eight-ball for inventory optimization.
Here are few features that can help you win:
Unified data from your entire supply chain in one easy-to-use dashboard.
Smart AI and automation to reduce costly inventory errors and minimize time spent on supply chain tasks.
Advanced algorithms for razor-sharp stock predictions and a steady stream of sales.
With Flieber, you can finally exit the stockout hamster wheel and start reinvesting your trapped capital, and extra cash from increased sales, into new products, channels and territories in order to profitably scale your brand.
The only real multi-channel inventory optimization solution
If you're ready to take your business to the next level, Flieber can help make it happen.
Our cutting-edge technology, flexible platform and expert support will give you everything you need to get ahead of the competition and become a category leader.
Flieber can help you reduce time spent on inventory and supply chain tasks, protect your business against costly stockouts, and find more time and energy for profitable growth.
Ready to scale your business to the next level? Book your free Flieber demo today!