While the rise of digital advertising has given businesses numerous channels to promote their products, it has become apparent that scarce inventory can make poorly handled ads backfire.
How can you create a seamless pathway for your inventory and advertising strategies to work together and yield the best possible results? Read on to find out.
The Consequences of Stockouts
Running out of stock can sometimes lead to irreparable consequences. When you spend a good part of your budget promoting items that are low in stock, it can negatively impact your profits. This often happens when your team isn't working coherently: when information is fragmented, and marketers don't have real-time access to inventory levels.
So, how does a stockout affect your business?
Lower Profits
Clearly, when you're out of an item, you can't sell it. But if you think you can use backorder, it's not that simple. Amazon, for instance, doesn't favor back-ordered products, so when your stock levels are running out, that will affect your listing. What's more, you won't be able to turn a profit until you replenish the inventory.
Decreased Product Ranking
Whether short or long, stockouts affect shopping results in the worst possible way. For instance, for the Amazon search ranking algorithm, the availability of products is the most important factor. It also defines the ranking positions of items, so Amazon won't be listing products that are out of stock. If this occurs on a regular basis, there's a good chance your ranking will drop significantly and you will have to work on visibility even when replenished. Your product's tendency to appear in the last position even when you have inventory is an obvious takeaway from this flaw.
Lack of Customer Review
Everyone knows how important customer feedback is. Feedback impacts both the seller's profile and product listing. But you will struggle to receive positive feedback, or any at all if clients can't buy what they need in the store.
This is additional evidence of the importance of accurate stock maintenance. If you want to collect positive feedback, reach stable profits and consistent sales, make sure you're stocked up, and that your product appears at the top of Amazon search results.
Inventory-based Ad Management
If you search the Internet, you'll realize quickly that there's too much talk about advertising and too little about inventory management. Surely, a savvy ad campaign can make your business much more profitable. But if there is no stock, advertising won't help. When it comes to synchronizing the availability of inventory with advertising, marketers often fall short.
This issue is especially acute during the Q4 craze. Each year, retailers expend tremendous efforts managing holiday advertising. If retailers sell through their advertising, they'll generate enough incremental sales to help them compete or even surpass their traditional product sales targets. But what happens when retailers sell out, resulting in lost ad spending amidst depleted inventory?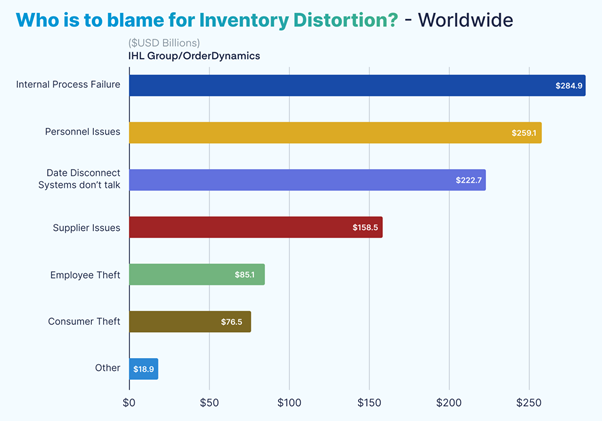 Insufficient inventory is a leading cause of obstacles in a retail company's path to profitability. And a strong understanding of forecast accuracy is central to inventory optimization. Since your forecast will ultimately determine how you order mixed goods, it's important to make sure your inventory is optimized to meet forecast demand. This includes an understanding of your demand, capacity, inventory turns, top-level capacity utilization, and inventory variety.
To make your marketing efforts as efficient as possible, you need inventory-based ads management. Inventory accuracy can be a major factor in a business's omnichannel effectiveness allowing a company to identify its effective market range, and to stock accordingly. In addition, it explains how investments in inventory replacement can turn into customer churn.
To synchronize stock and advertising, you can use various plugins to track your inventory, or, use tools that automatically sync stock availability with ads. Having a tool that balances ad display according to inventory levels across a large number of SKUs is one of the most efficient ways to manage inventory-based ads. Consider syncing your advertising and inventory availability targets: this means that when the customer buys something, the advertising placement is updated immediately with the new inventory levels.
Merging Ads and Stock
While order fulfillment has advanced in amazing ways, it still falls short in some crucial areas. And that is still a problem for sellers who have a tight time to market with high-demand products. This scope of the problem is why many sellers still suffer from costly stockouts, even with an integrated e-commerce solution.
If you devote a significant amount of time to marketing products online, you may have a number of ad management tasks that you need to get done regularly. To ensure that your advertising strategy is aligned with your sales and marketing campaigns, you need to:
Have a detailed plan of your marketing strategy based on forecast accuracy and inventory optimization. It can be hard to come up with a realistic promotional strategy. However, for a company that decides to rely on advertising, a detailed plan is a must. Without a detailed plan, you have a lot of potential for wasted time and money, which is a surefire way to decrease revenue and slow down growth.
Target actual market needs: many companies follow the same old marketing approaches even when the time isn't right. They need to understand that advertising works best when it is directly related to the products they offer that prospects are interested in right now.
Stop advertising products that are out of stock: it's always frustrating for a customer when they go to a store page and the advertised product is out of stock. This happens a lot more than you might think. A lot of companies that sell out-of-stock items on their websites or social media platforms rely on backorders. But this strategy doesn't work with many platforms that don't support selling items on backorder.
Use inventory-based ad management tools: the inventory data is usually stored in a database on your application server and tends to change throughout the day. These frequent data changes make it difficult to complete and track inventory updates. The more products you advertise, the more ads you need to manage. Sometimes tracking ads and inventory availability becomes too complicated or even impossible. The inventory-based ad management tools can help you automate daily tasks and synchronize your ads with stocks to make them work in complete harmony.
Double-check the inventory when you plan a discount promotion: inventory is always a factor when considering whether the risk is worth the reward—especially with a discount or sale promotion. Confirm that you have enough stock on hand before you let the promotional day start. If you have an insufficient amount of products that you plan to offer for a discount, it can jeopardize a promotion that was well planned and is a few weeks away from a groundswell of demand.
If you're investing in yourself and your company via advertising, remember that your marketing efforts and inventory optimization must act harmoniously. Your advertising strategy can also drive prices and improve your business's bottom line. Not to mention, awareness can be a valuable marketing tactic if done well.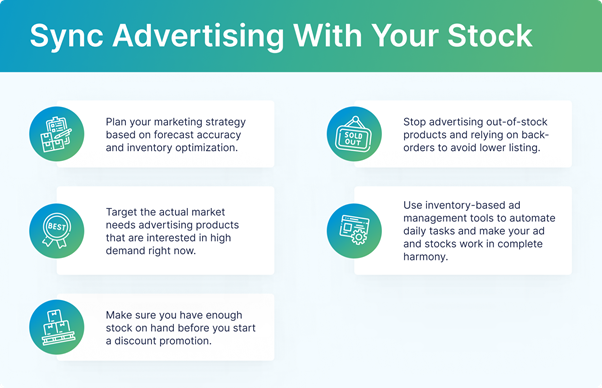 Final Word
The topic of syncing advertising with stock is much less heralded than it needs to be so we decided to fix that today with this small piece of content. Hopefully, it was useful for you. We know that small businesses are always thinking about how to optimize inventory. There's a joke that the topic is a common conversation starter with most sellers.
Increased complexities of the e-commerce marketplaces and the development of numerous digitization channels have caused inventory management to become increasingly difficult and valuable. If you sell a physical product, it's imperative that you consider the potential risks of inventory shortages, product spiking, and stockouts. Thankfully, advanced technologies come to sellers' rescue.
Our best piece of advice for easier ads and stock syncing is to use specifically created extensions and tools. The inventory-based ad management tools allow you to automate daily tasks, synchronize your ads with stocks, and achieve better synchronization of your ad campaigns.