Have you ever tried to navigate the hallways of your home without turning the lights on? No matter how well you know the layout of your house, when you can't see where you're going, you may feel like you're stumbling around, lost and confused.
Without visibility into your supply chain, managing inventory and delivery processes for your business can feel just as overwhelming without the right software solution.
Your supply chain is full of moving parts. Suppliers, sales channels, warehouses, and more must intersect with delivery schedules and fulfillment channels. It can become a logistical nightmare. Let's say you need three thousand units next month. Easy, you place an order for three thousand units, right?
But wait, after placing that order, you learn that you have one thousand units already en route to your warehouse. If you'd known that piece of the puzzle, you wouldn't have ordered the full three thousand units, to begin with. Now, you're stuck with a thousand units you don't need in overstock.
Without supply chain visibility software, managing your inventory can feel like playing a massive game of Telephone: You know the message you started with, but to see what ends up happening, you just have to wait.
That's no way to manage a business. But don't worry - we have some solutions for you. This post will cover the best supply chain visibility software that you can combine to create the best tech stack. The four tools we discuss work together to form the supply chain visibility software solution of your dreams. After reading, you'll have the information you need to create the perfect tech stack for your business.

The Most Common Myth About Supply Chain Visibility Software
You may have come to this post looking for a silver bullet: the ultimate, best supply chain visibility software - a single tool that will give you total visibility into every aspect and niche of your supply chain. The truth of the matter is that supply chains are complicated. The interwoven pieces and separate players involved in any supply chain make it challenging for any one tool to truly give you the entire picture.
Tools like Project 44 can provide visibility into your supply chain, however, these tools do not provide users with insights to help them make decisions based on that increased visibility.
What you need, then, is a series of tools that integrate, giving you the ability to track shipments in real-time, analyze patterns, account for disruptions, and plan for demand all while providing you the visibility you need.
Your supply chain visibility software stack will need to combine data from sales, fulfillment, warehousing, freight, production, and more. When you optimize those processes appropriately, you'll be able to reduce your operating costs, improve customer service and delivery timelines, centralize communications, and more.
Related: Why Great Customer Service Requires a Great Supply Chain
The perfect tech stack for supply chain visibility comprises four parts:
This post will cover each of these elements in more detail and provide you with a recommendation of a software solution that covers that piece of the supply chain visibility puzzle.

Inventory Planning
Your inventory planning solution is the central piece of your supply chain visibility software puzzle. Demand planning software helps you optimize your inventory, giving you forecasts of which products to stock at which locations and in what quantities.
In other words, inventory planning software helps you make decisions. Supply chain visibility aims to arm you with all the information you need to make those decisions. Therefore, your demand planning tool should be the glue that holds together the rest of your supply chain visibility tech stack.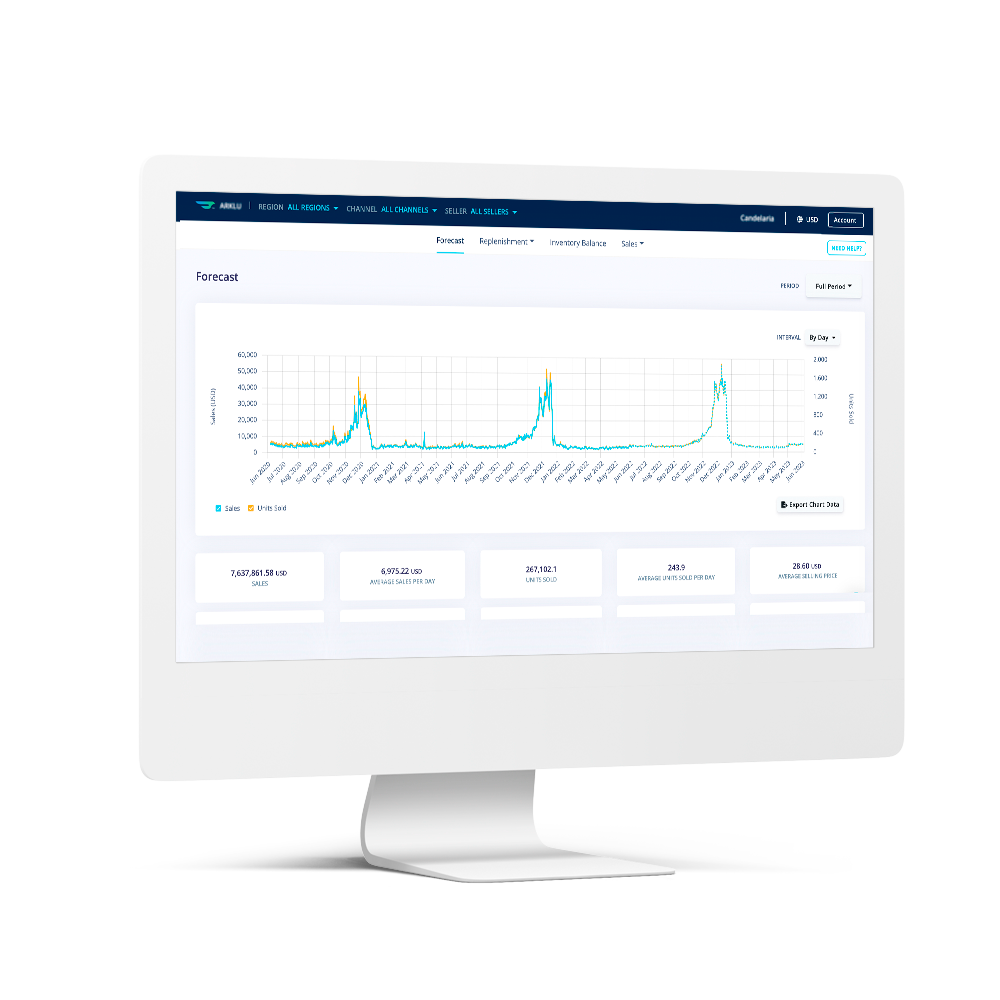 Flieber's inventory planning solution is chock full of advanced technology and machine learning, giving you the tools you need to synchronize your sales velocity, supply chain, and inventory efforts. On its own, this tool is powerful, but if you want maximum supply chain visibility, you may choose to pair this tool with the other software solutions on this list.
Flieber integrates seamlessly with all of the other tools listed in this post and more, allowing you to build an incredibly powerful supply chain visibility software stack that will enable you to easily manage your inventory.
Production
Without production, you have no supply chain, because you have no supply. Your production efficiency/production management tool can help you minimize order discrepancies by adapting to changes in the supply of materials, centralizing production-related data, and opening lines of communication across your supply chain.
A production efficiency tool can help you manage material sourcing, production management, and production logistics for your business. You can also use this tool for payment tracking, helping you to keep your finger on the pulse of what payments are due and when, so you never fall behind or miss a payment to a supplier.
Anvyl's production efficiency tool offers features like order delay risk analysis, which lets you identify possible hiccups that may cause delays in your shipping processes. You can also use Anvyl's three-way matching feature to identify differences between orders, shipments, and invoices, giving you all the information you need to stay on top of payments (and only pay what's really due).
Direct-to-consumer sellers are already benefiting from Flieber and Anvyl's partnership:
"Leveraging Flieber, together with the Anvyl integration, we've been able to decrease the amount of time it takes to generate a PO by 75%. This is huge and will enable us to hit our growth targets over the next few months." -Yedra Lopez Gragera, Business Operations—Supply Chain Lead, OpenStore


ERP
The next part of your supply chain visibility solution is an ERP. What is an ERP? ERP stands for enterprise resource planning. Your ERP tool is your business's software to manage day-to-day operations like accounting, procurement, supply chain operations, and more.
A critical function of any quality ERP tool is the ability to track vital business metrics. Your ERP should provide real-time data across departments, giving workers in every area of your business access to the reports and analytics they need to operate efficiently.
Your ERP tool may also help you automate certain processes like invoicing, order processing, and more, saving you time and money—and reducing the risk of human error. The automation and tracking features work together to help increase the visibility and coordination between the various departments that need to interact with the rest of your supply chain.
NetSuite's ERP integrates your financial and operational processes into a single application suite. This solution can help optimize warehouse processes, improve financial operations, and monitor inventory levels.
Freight & Delivery
Freight and delivery are significant pieces of any supply chain. The role of transportation in your supply chain is clear: Moving products from one location to another. This transportation is divided into multiple steps.
Freight refers to mass shipping materials or products from production to your warehouse. The second half of the transportation process, delivery, occurs when the product is shipped from your warehouse to your end customer.
Your freight processes can take the form of ocean freight, air shipments, or land-based shipments like trucking—or a combination of all of the above.
Related: What Does Real Supply Chain Optimization Look Like In E-commerce?


Flexport's tool gives you the ability to track and trace your orders. For instance, you can track a vessel for an ocean shipment, checking on products down to the SKU to see where they are in their journey to your warehouse. Flexport also offers you updates if a shipment is delayed and gives you options to help optimize trucking routes.
Fulfillment
Last but not least, you will need to have a fulfillment tool to gain visibility and insight into your supply chain. A fulfillment tool can help you optimize and automate portions of your warehouse management processes including packing, shipping, and tracking processes.
The perfect fulfillment solution for your e-commerce business will integrate smoothly with the rest of the tools in your supply chain visibility tech stack. A robust fulfillment solution will also integrate with key marketplaces to help you offer key features like two-day shipping.


Deliverr is a fulfillment solution that boasts benefits like simple pricing, sales-boosting image badges for product listings, and an easy-to-use interface that can get you up and running quickly. Some of the marketplaces Deliverr works with include Shopify, Walmart, eBay, Instagram, Wish, and more.


Bringing it All Together: The Best Supply Chain Visibility Software Tech Stack
If you want to avoid stockouts, minimize the effects of supply chain disruptions, and optimize your inventory and replenishment processes, supply chain visibility software is a must. This type of solution is essential for anyone selling direct-to-consumer across multiple channels.
By combining the four pieces of the supply chain visibility puzzle discussed in this post, you'll be able to integrate real-time data from every step of your supply chain. In addition, you'll gain all the information you need to make the right decisions at the right time regarding your inventory replenishment processes.
So, where should you start? Begin with the central piece and heart of your operation: your inventory planning tool, and go from there. Flieber's advanced inventory planning tool integrates with NetSuite, Anvyl, Flexport, and more - making your tech stack easy to manage and providing accurate, reliable inventory forecasting.
To see how Flieber can help you maximize the effectiveness of your new supply chain visibility software, schedule a demo of our software solution today!